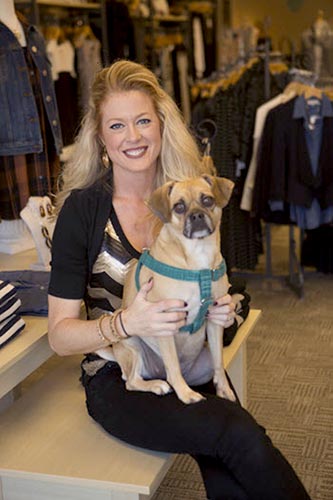 Natalie and her husband, Mick Galligan, have been married for 15 years and reside in Bloomington with Natalie's stepdaughters, Rachel and Jaclyn. Mick has worked at State Farm for 28 years and has been Natalie's biggest support and sounding board since the inception of Shoo Shoo Baby in 2009.
With a background in social work, Natalie has a talent for connecting with other women. With her clients in mind, Natalie travels to shows around the country to find designs and trends that she knows her customers will love.
Natalie works most days in the store with her sidekick, Lulu Louise Galligan, her puggle. Lulu joined the Shoo Shoo Baby team when she was only 8 weeks old, in 2012. Natalie is an avid dog lover and has one additional puggle, Mamie Bird Galligan, at home. Mamie was not socialized to be in the store and enjoys her time at home without her little sister to bother her.
Community involvement is very important to Natalie. She is actively involved in the community and is a member of the McLean County Chamber of Commerce, as well as a member of the foundation board at OSF St. Joseph Hospital. Natalie is also an active member of St. Patrick's Church of Merna.