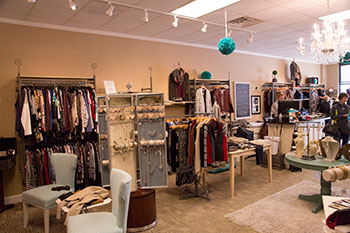 Shoo Shoo Baby Women's Fashion Boutique is a trendy, contemporary clothing boutique located in Bloomington, Illinois. Shop our collection of jackets, dresses, sweaters, and accessories including scarves, bracelets, necklaces, purses, and yes, shoes! We carry a stunning selection with new items arriving weekly. Everything a woman needs to feel fabulous!
Shoo Shoo Baby is owned and operated by Natalie Galligan. Natalie shops major trade shows throughout the country looking for the latest trends and classic styles to bring to Bloomington/Normal, Peoria, and the surrounding areas. With a love of all things beautiful, Natalie personally selects each item with much thought and personal attention.
Share the love! Clothing and accessories from Shoo Shoo Baby Fashion Boutique make great gift items. Whether it's a new dress by Joseph Ribkoff, Liverpool Jeans, an accessory by Brighton, or a classic tee by Michael Stars, you will find the perfect gift!
We take great pride in offering a warm and welcoming environment where you can shop, browse new lines, fall in love with a new dress, or just hang out and have a glass of wine. Cheers!